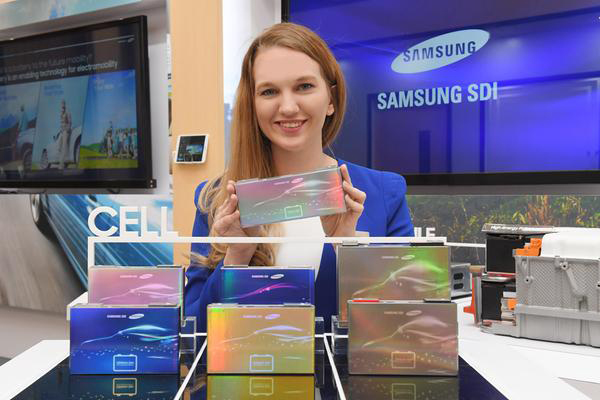 Samsung SDI Co., a South Korean manufacturer of electric vehicle (EV) and smartphone batteries, unveiled a new electric vehicle battery cell that offers a 600-kilometer driving range after a 20-minute charge at the 2018 North American International Auto Show (NAIAS) in Detroit, the United States, on Monday (local time).
The battery making unit of Korea's largest conglomerate Samsung Group claimed that its new EV battery cell boasts of energy density high enough to allow the car to drive up to 600 kilometers on a single charge that takes only 20 minutes. The company presented the new large-capacity EV battery cell along with a slew of its new battery materials and products under the slogan "The Future of Electric Vehicles Starts Today" at the auto show in Detroit.
Among other new products, the so-called "graphene balls" drew huge attention. This is a latest battery technology that will help increase total charging capacity by 45 percent compared to existing lithium-ion batteries at a five times faster charging speed, according to the company. The technology was already highlighted in the November 2017 edition of science journal Nature Communications.
Along with it, the Korean battery maker showcased diverse battery cell lineups that can be applied to electric vehicles as well as plug-in hybrid electric vehicles (PHEVs). It also unveiled multi-functional module (MFM) battery packs that allow diversification in driving distances with a single battery pack and a battery cell with 20 percent reduced height that offers more internal vehicle space.
The company expects these "cutting-edge" battery products and technologies would help it "lead the popularization of electric vehicles," said Jeong Seh-woong, executive vice president of automotive business and energy storage system at Samsung SDI. An unnamed official from Samsung SDI added the company's latest battery products have succeeded in grabbing attention from global finished car brands.
Visitors to Samsung SDI's booth at the Detroit auto show will also find new battery cells and modules using the new 21700 standard cylindrical battery – which is 21 millimeters in diameter and 70 millimeters in height. The new 21700 battery technology allows a battery to have a 50 percent larger capacity than the existing 18650 battery technology, according to the company, adding that it has improved power output and longer battery life.